Introducing KenMed Surgical's "Assisted Capital Equipment Planning" service, with analytics by Attainia. Learn How you can:
RELAX will:
Inventory & report on life-cycle value of current equipment
Provide replacement recommendations for EOL (End of Life) equipment
Smooth out your Cash Flow
Eliminate or reduce down time
SAVE
Earn $2,500 in equipment credit* for participating
Receive hassle-free trade-in replacement offers @ 70% off retail
Eliminate gap-out rentals
Capital Equipment Planning Saves $$$
Capital Equipment follows a fairly predictable life-cycle, from analysis and purchase, to useful life, decline, and finally disposition. As a major center of cost and revenue, it especially critical to understand and predict the outcome of keeping vs. replacing your capital equipment.
Without a plan, facilities face equipment down time which turns into expensive delays, gap-out rentals, or potential costly patient safety issues. With budgets squeezed and equipment costs soaring, absorbing a mistake can be devastating to your budget and profitability.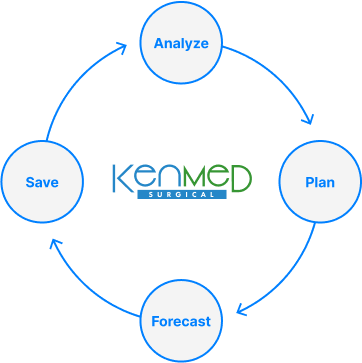 Assisted Capital Equipment Planning
KenMed Surgical assists Materials Managers with life-cycle planning, using our in depth equipment knowledge, experience in life-cycle planning, and software tools.
Powered by Attainia, KenMed Surgical team members will:
Catalog your current equipment.
Provide industry generated projected maintenance costs & average life span.
Identify End of Life (EOL) equipment.
Suggest replacement equipment options.
The comparable replacement options for EOL equipment gives Surgical and Material staff time to evaluate brands and features for the replacement. With Attania we keep detailed logs of all equipment and location and can project average new purchase price for replacement equipment and timeline.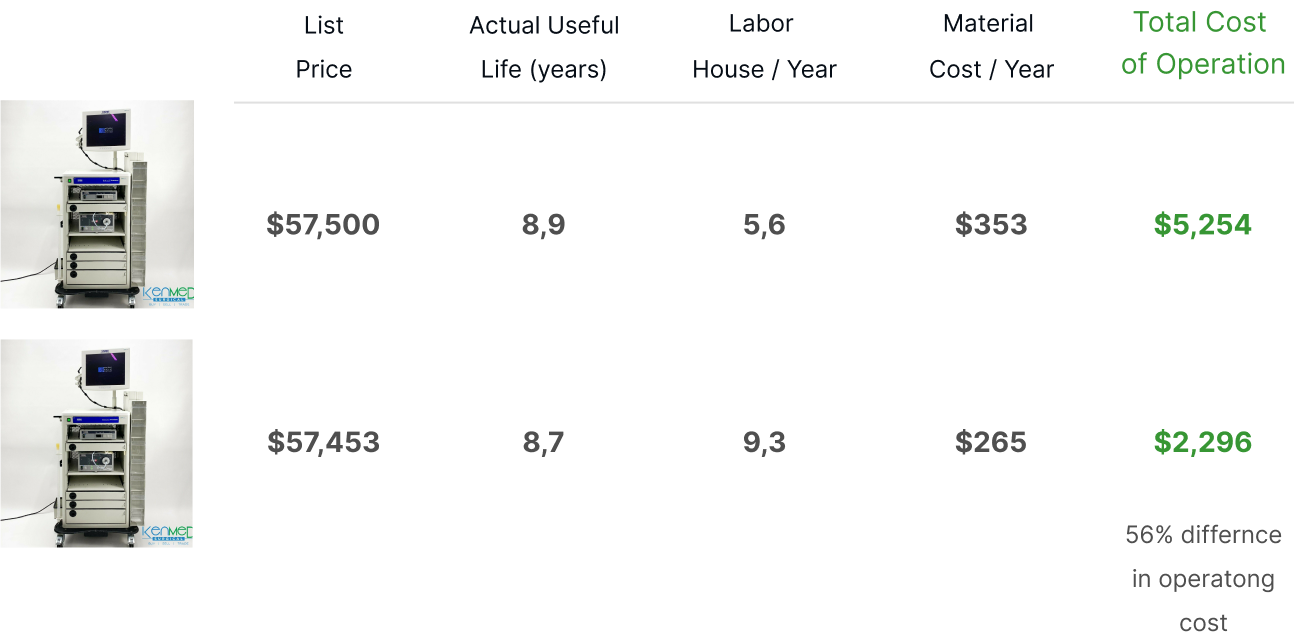 Get in touch
Fill out this handy form and we'll get back to you quickly.
Incentives to start now
For a limited time, the survey and recommendation service is available at no cost, savings are guaranteed, and qualified facilities* that take advantage of this opportunity will also receive a $2,500 equipment credit to be used on any trade in (this is a limited time offer)*.
No-Hassle Quotes
Your favorite benefit will be the no-hassle trade-in replacement offers of current-model equipment from bankruptcy auctions across the country. When a pre-identified replacement becomes available within the recommended replacement period, you will receive no-hassle quotes that include trade in of your current equipment, purchase price of the refurbished equipment, and financing options*, if you choose. All of these combine to predictably save you 50-70% cost savings and 80% reduction in unplanned cash flow, guaranteed*.
*Survey and recommendation service is available at no cost to non-hospital affiliated ambulatory surgery centers with 3 OR's or less. Special pricing is available for affiliated ambulatory surgery centers, hospitals, or surgery centers with more than 3 OR's. Call for pricing and details. Service is currently only offered in the state of Florida.
Savings are Guaranteed when paired with KenMed Surgical's optional contracted quoting service.
$2,500 Equipment Credit is available on a first come first served basis for a limited number of facilities that sign up for this service.
Financing is available through select third party vendors with approved credit.