Same Equipment, Less Cost
If you've purchased brand new surgical equipment at MSRP (Manufacturer's Suggested Retail Price), you probably noticed that you might as well give them an arm and a leg while you're at it.

If you could find the same equipment for half the price, would you be interested? At KenMed Supply, we have used surgical instruments for sale that offer a savings of 50% as a starting point.

Materials Managers, Administrators, and Surgical Services Managers benefit from savings at KenMed Supply. Anyone working inside a tight budget will appreciate freeing up funds by spending less on the equipment you plan to buy anyway.
How do we do this?
We have access to a large private network of surgical suppliers and dealers. In addition, our used surgical equipment specialists attend 15 or more surgical equipment auctions per month, including those where an entire hospital or surgery center is being sold. These offer tremendous opportunities to deliver current model, patient ready equipment that has been pulled from an "in use" situation, and is most often in near perfect condition.
We are able to find even hard to find items at bargain prices.
Ordered Inventory
Our regular customers share their capital equipment lists with us, and we are able to specifically source requested items for them, often at even greater savings!
In Stock Inventory
We keep a great inventory of popular used surgical equipment for sale. These are items we know our customers regularly ask for and that we find at tremendous savings.
Central Florida Example
Here's how one customer increased her buying power 22% working with us.
We have a great relationship with a nearby Materials Manager who in FY'18 had a capital equipment budget of $1.2M. She shares her needs list with us, allowing us to use our multiple channels to look specifically for the used surgical equipment she needs most.
Over the course of the year, she bought 30 items from us, large and small, spending $143k on items she would have had to spend $378k on from her normal vendors (you can see the full list at the bottom of this post). That's a 62% savings just for letting us look for items for her.
It gets even better though, because we also gave her $30k in credit for some unused equipment and disposables in her storage closet that would have otherwise gone unused, been thrown away, or would have been donated. This increased her overall savings to 70% for the year.
Simple math tells us that getting $1.5M worth of equipment for the same $1.2M she had to spend initially, means that she increased her buying power 22%, simply by sharing her list and letting us quote equipment she was going to have to buy anyway.
Can you think of an easier way to save money?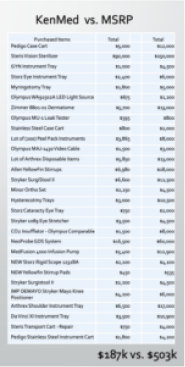 Fig 1.1, List of equipment purchased, including qty, KenMed's final price, and comparable MSRP*

*The items used in this example are actual items purchased at actual prices. Prices do fluctuate based on availability and demand. Not all products are kept in stock and there is no guarantee that an exact match of equipment or price would be available in the future, though we try our best.
You can save too when you buy used surgical equipment.
Cut out using coupons, and use KenMed Supply instead. We'll take the hassle out of buying reconditioned & refurbished, current model, patient-ready used surgical equipment, and we'll deliver it with a 1 year manufacturer's defect warranty.
There's no cost or obligation. To get started, call, email or fill out the form below.
Don't see what you need?
We have access to multiple channels to source your specific equipment needs. Call us or click the button below to submit an equipment request.
Get in touch
Fill out this handy form and we'll get back to you quickly.